Badge Puzzles
SEC-T Badge Puzzle is a new tradition of pen-brain-and-paper puzzles designed to be medium hard yet annoyingly easy to over analyse. The first person to solve a badge challenge will get two free entries to SEC-T of the year(s) of their choice. Currently there are different methods for submitting your answer, either by using the same webpage your ticket was downloaded from or by emailing [email protected]
If you believe you find a bug or are in a desperate need of a hint send us an email to [email protected]. To the extent that we give answers to any elements of the puzzle these answers will also be published here for everyone to see.
---
2018 (Solved)
The 2018 badge challenge was delivered on an NFC tag. The challenge had a minor bug that could easily have been figured out. But  because of that we have reprinted a fixed version below (base64 to preserve the data).
2020-05-02: It came to our attention that there was several issues with this challenge and a corrected version has been published here.
X25Db21tdW5pdHlFY29sb2d5QXRfaGlzcG9pbl9pZnlvX2hhdmVyZWFkdGhyb3VnaG91X3Zpc2lf
bnNnb2Fsc2FfZHN0cmF0ZWdpZXNhbmRoYXZlX19pY3R1cmVvX3doYXR3ZWFyX2Fib3V0V2VzdXNw
ZWNfeW91YXJlcGFydG9mdGhlY29tbV9faXR5Zm9yd2hpY2h0aGlzZWNvc19zdGVtaXNpbXBvcnRh
bnRJZnlfdWhhdl9hbl9pZGVfX29uaG93d2VjYW53b3JrdG9nZV9oZXJ0b21hX2Vjb25mZXJlbmNl
c21vcmV3b3JfaHdoX2xlZm9yZXZlcnlvbmVpX3ZvbHZlZG9yanVzdGhhdmVhbmlfZWFvZmhvd3dl
Y2FubWFfZXNvbWVsaXR0bGVkZXRhaWxfZXR0ZXJmX3JvbmVvZnRoZVNFQy1UZXZlbl9zd2V3b3Vs
ZHZlcl9fdWNoYXBwcmVjaWF0ZWl0aWZ5X3V0YWtldGhfdGltZXRvbGV0dXNrbm93U2luY190aGVj
b19tdW5pdHlpc3NvbWV0aF9uZ3RoYXRpc2Fsd2F5c2dvaW5nb19ub3RqdXN0ZHVyaW5nb3VyZV9l
bnRfd2V3b3VsX2xpa2V0b2NyZWF0ZWFub3Bwb3JfdW5pdHlmb19zdHJlbmd0aGVuaW5nb25nb19u
Z3ByX2plY3QgQW5kRm9yVHdvRnJlZVRpY2tldHNZb3VTaG91bGRTb2x2ZVRoaXNQdXp6bGVbLS4g
LzAzMDEwMjAxMDIwMTAxMDEwMjAyMDYwMjA3MDIwNTAyMEUwMjBFMDIwMTAyMDEwMTBFMDIwNzA0
MDQwODA4MDQwNTAzMTkwNzAxMDIwRDA1MjMwNTAyMDYwMjAyMzQwMzI3MDQzMjA0MTcwMzQ4MDYw
NzA0MTcwMjQwMEU0OTA2NjAwNDBDMDUxQTA3MTgwMzJCMDM1MTA2MzMwODg2MDUwRTAzMEYwMzY3
MDQxNTAzQTIwNV0=

The badge puzzle was also printed as a poster for SEC-T 2019. This version has issues and should not be used.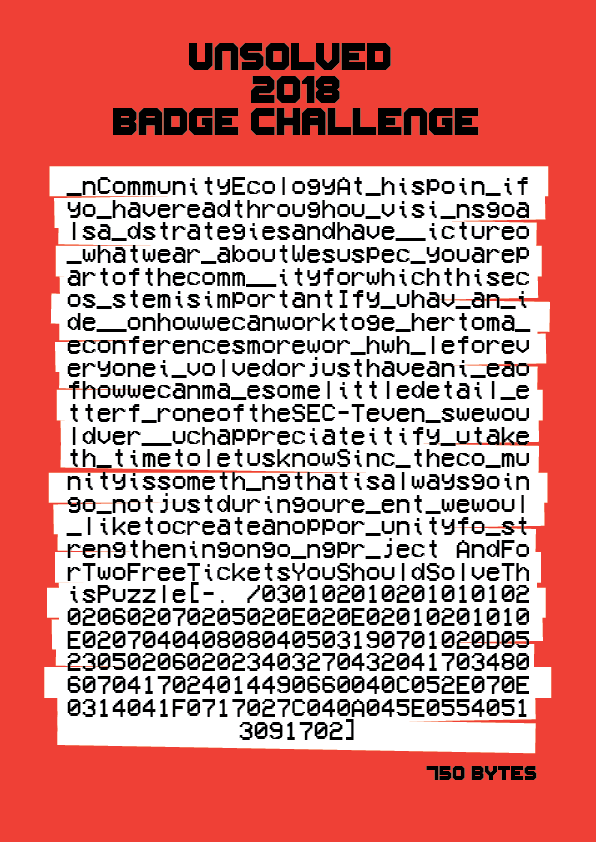 This badge was solved by Alve Björk on May 3:rd 2020
---
2019 (Solved)
The 2019 badge challenge was printed on one side of the plastic badge and so far no bugs have been found.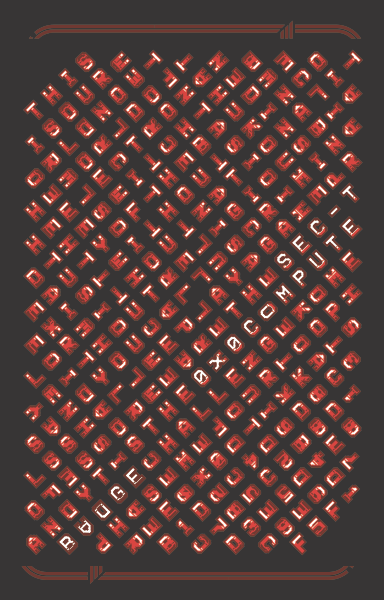 History:
A member of audience came up to me and said they were there to "face me for two free tickets". Clearly thinking this was the trick to winning.
I told them it wasn't me saying this but that they instead should do what the card told them, to the card, and not to me.
Human: Who is Andy T?
SEC-T: There is no Andy T… it should be read as "and YT"
The 2019 badge was solved by Carl Sundvall on October 14:th 2019
---
2020 (To be released)